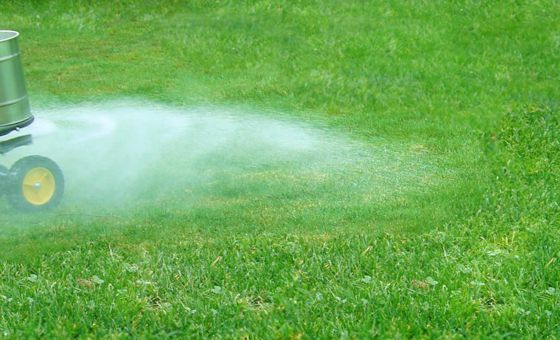 Regular fertilising is vital providing year round nutrition which will drive growth and vigour in your lawn. Increasing your lawn's strength and resilience is a key to resisting weed, fungus and insect invasion.
Slow release liquid fertilisers have proven to give more even, sustained feeding, more vigour and a more uniform feeding pattern than the traditional granular hand spread method.
We apply foliar (liquid) fertilisers via a boom spray mist using a "hit and stick method" that enables the product to enter through the grass leaf pores, rather than the dissolved granular product being absorbed by grass roots as it travels through the soil/rootzone. There is no run-off, no waste via soil nutrient lock up, no leaching away in our sandy soils. The applied foliar nutrient will travel into the plant, readily used as the plant requires it. Products are applied with a water-proofer which guarantees the product sticking to the grass plant, protecting from any rainfall in Winter months or the reticulation watering during Summer. We alter the type of product's applied throughout the different seasons, ensuring the lawn's nutrient requirements are optimised for the specific time of year.
The Lawncare Man uses premium polymer coated slow release granular fertilisers aimed at sustained feeding over a period of at least 8 weeks. These products are used in watering season to be readily watered off grass leaves and into rootzone via reticulation systems. The polymer coated fertilisers prove to be the most stable in releasing nutrients over an extended period of time, they won't spot with a heavy dew before water, as do the Sulphur coated fertilisers. The finer prill (granule) size means less of the product being mown off as it sits amongst the turf sward, not on top of it only to be cut off by mowing. These products promote year-round uniformity, eliminating growth spikes and 'scalping' from excessive mowing.