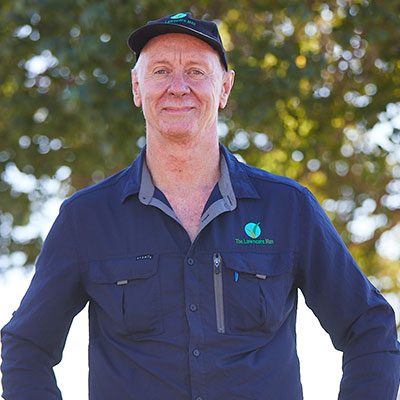 Guy has over 30 years experience in The WA Turf industry. He started as a groundsman at Christchurch Grammar school in 1991.
Appointed as head Groundsman at the Waterford Playing Fields at Trinity College in 1993 where he was for 6 years. He then moved over to private enterprise at Turfmaster where he was Estates Manager for a further 6 years . He then purchased The Lawncare Man in 2005. Since that purchase and forming an effective husband and wife team he has overseen a steady expansion to now involve office staff and 3 Lawn Technicians.
Guys initial idea was to bring commercial knowledge and application techniques to The Lawncare Man and takes great pride in being the link between the domestic and commercial turf markets.
What Guy says: After working in the purely commercial sector for over 15 years, I felt there was a need for a professional domestic lawn service providing industry leading products and their application methods. 
The original owner Russell Hume was indeed a ground breaker in his initial business setup, providing me a business purchase with the ideal vehicle to improve, innovate and provide an outstanding service. I, like my technicians enjoy building long term relationships with all of our clients and providing them with the best 12 month surface possible in their individual situations.