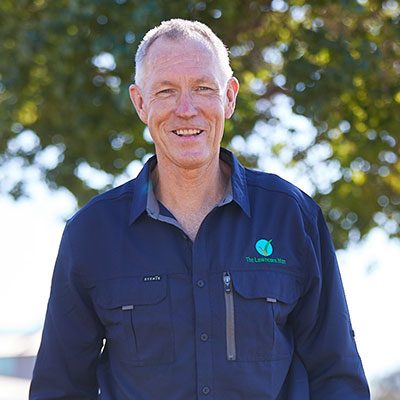 Ian joined The Lawncare Man team in 2020. A motor mechanic by trade Ian took himself through TAFE in 2020 to gain the necessary skills to work as a Turf Technician.
What the boss says: Ian is an incredibly quick learner, amassing reams of notes and developing an incredible knowledge bank. Amazing me with his level of initiative and his understanding so quickly of a myriad of turf situations. He is a high-energy all weather performer taking his new outdoor role in his stride. His innovational skills on and around our spray rigs have seen the safe, environmental fluid transfer side of the business of our operation go from strength to strength.
What Ian says: After operating my own mechanical business for 22 years I have found the change to The Lawncare Man a rewarding and enjoyable challenge. Coming from a farming background my knowledge of pumping systems and the variety of related equipment has proven handy in tweaking and improving the nature of The Lawncare Man operation with new innovation has been something I've really enjoyed. 
Meeting new clients and working in a great friendly work place is something I really value. Guy has an encyclopaedic turf knowledge and his willingness and skill in imparting knowledge has been really appreciated.