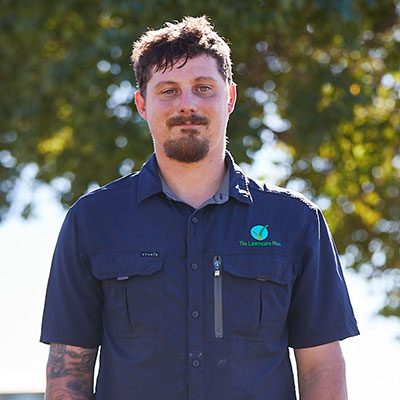 Matthew Joined The Lawncare Man team in 2018. Prior to this Matthew started his Turf Apprenticeship in 2013 at the Swan Bowling Club, completing his apprenticeship at The Swan Bowling Club. Matthew was awarded apprentice of the year in 2016.
What the boss says: Matt's technical skills have grown immeasurably over his 4 years with us, being an astute judge of many a turf situation including Fungal disease diagnosis and Insect damage identification. Matthew builds strong relationships with his ever increasing client base, enjoying seeing him as part of his periodic visits timetable. He is the epitome of a quiet achiever and we are so lucky to have him as part of our team.
What Matthew says: What I enjoy about work at The Lawncare Man is working for a family business, working with a great group of people. The interaction and ongoing relationships with our clients is something I really value. I also enjoy the responsibility of an almost no supervision position and the feeling of my knowledge base gaining daily.